Highlights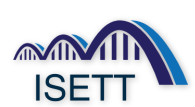 2018 COTA International Symposium on Emerging Trends in Transportation
Organized and sponsored by the Chinese Overseas Transportation Association (COTA), University of Hawaii, and Transportation Research Board (TRB), the inaugural 2018 COTA International Symposium on Emerging Trends in Transportation will be held at the
Hyatt Regency Waikiki Beach, Hawaii on October 4~6, 2018
. With a theme on Emerging Technologies for Future Mobility Systems, this Fall Symposium series is a new addition to the successful Summer CICTP Conferences and Winter TRB Workshops, organized by COTA and its partners annually for the past 18 years.
For further information, please visit
COTA-ISETT official website
.
ISETT Proceedings is on-line